Port of Marín
Pérez Torres starts its activity in the port of Marin in 1962. Since then, its volume in port operations has increased each year, evolving in the sector with a decided effort to give the client an optimal service. It is established as a ships agents/owners representative, attending to all the needs required by vessels, with highly professional, specialized personnel, and giving prompt and adequate response to the needs of ship-owners, charterers, masters, crewmembers, etc. as well as managing all the documentation required for clearing vessels and the goods carried.
As Port Operators, we perform all types of operations with modern systems and professional, highly qualified personnel.
The Multi-Purpose and Containers Terminal covers a surface of +100.000 m2, 700 meters of berthing line, drafts of 14 meters, with 1 "Postpanamax" crane, 2 "Panamax" cranes and1 special crane for bulk and general cargo, as well as +500 units of reefer plugs. Other services we offered are: railway connection, appropriate area for container washing, repair and pretrip of containers, stuffing and stripping of containers and opening non-stop hours from 07:00 to 21:00.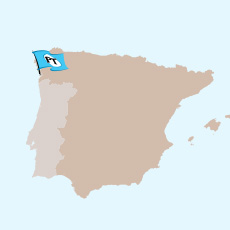 8º 41' 19" W
42º 24' 16" N
| | |
| --- | --- |
| Available surface area (m2): | more than 100.000 m2 |
| Docking line: | 1.800 m |
| Maximum permissible draft: | 14 m |
| Covered warehouses (m2): | 10.000 m2 |
| Cranes: | 4 |