Termarín
Multi-purpose terminal of Marín
As Port Operators, we perform all types of operations with modern systems and professional, highly qualified personnel.
The Multi-Purpose and Containers Terminal covers a surface of +100.000 m2, 700 meters of berthing line, drafts of 14 meters, with 1 "Postpanamax" crane, 2 "Panamax" cranes and 1 special crane for bulk and general cargo, as well as +500 units of reefer plugs. Other services we offered are railway connection, appropriate area for container washing, repair and pretrip of containers, stuffing and stripping of containers and opening non-stop hours from 07:00 to 21:00.
The warehouse surface is 5.000 TEUS at 3 tiers.
The Terminal counts currently with 500 REEFER PLUGS.
The Port of Marín has a Border Inspection Point (B.I.P.) located 50 metres from the Terminal.
See web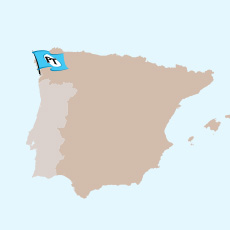 8º 41' 19" W 42º 24' 16" N
POSTAL ADDRESS:
Muelle Comercial s/n
36900 MARÍN, Pontevedra
Switchboard:
(+34) 986 838 057
Fax:
(+34) 986 880 382
E-mail:
marin@ptmar.com
SHIPPING AGENTS:
Phone:
(+34) 986 839 943 / 839 944
Fax:
(+34) 986 839 945
CHARTERING:
Phone:
(+34) 986 839 948 / 839 949
Fax:
(+34) 986 891 696
E-mail:
chartering@ptmar.com
ADMINISTRATION:
Phone:
(+34) 986 839 946 / 839 947
Fax:
(+34) 986 880 382
FORWARDING:
Phone:
(+34) 986 839 699
Fax:
(+34) 986 891 696
E-mail:
forwarding@ptmar.com